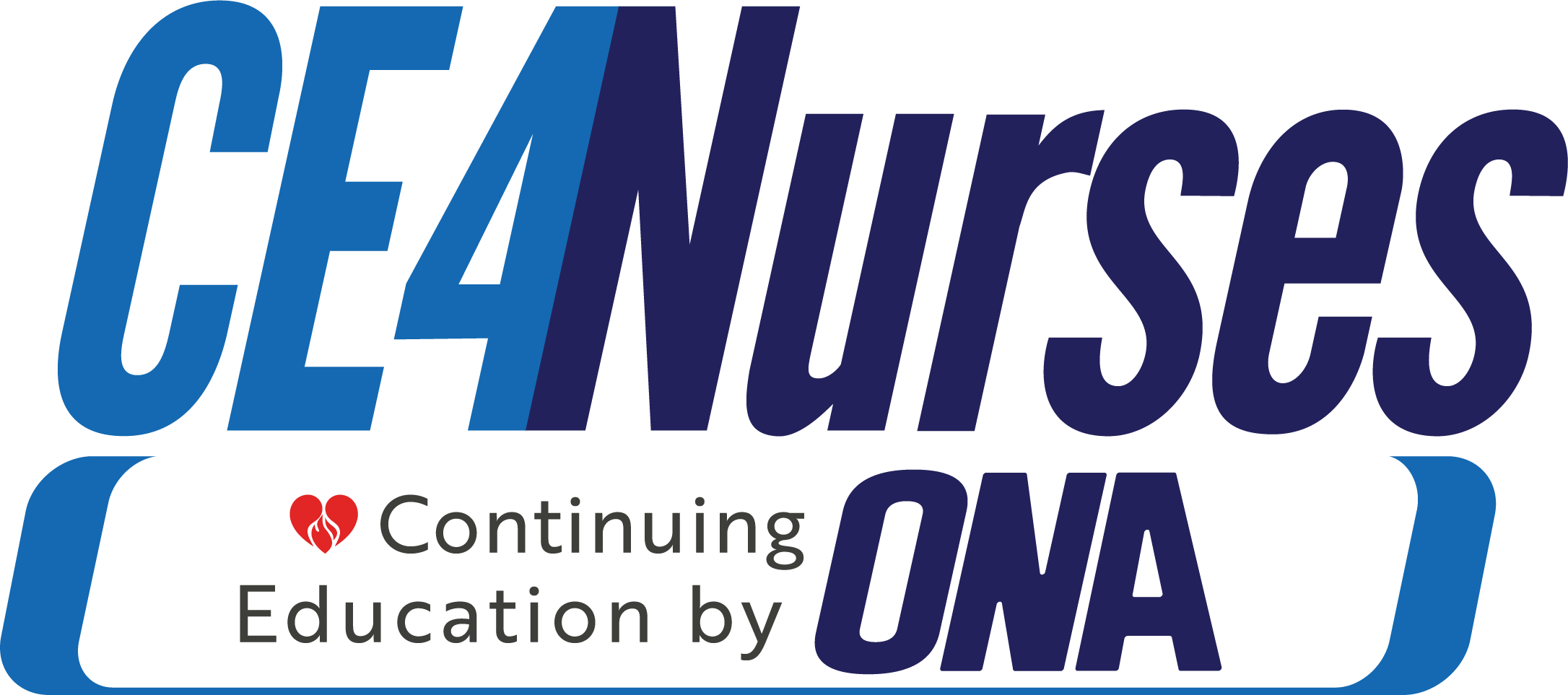 FAQs
Q: Do I have to be a member of ONA to create an account?
A: You don't have to be a member of the Ohio Nurses Association to create an account for CE4Nurses or to attend our live CE events, and creating an account does not sign you up for ONA membership.
Q: How Do I Create an Account?
A: Click the red "Log In" button in the top right hand corner of the site. Utilize the "Create Account" portion of that page and follow the prompts.
Q: I need a copy of a certificate from a test I took in your old system. How do I get that?
A: We have it, just contact us. We'll email it to you.
Q: I need a copy of a certificate from a test I took in this system. How do I get that?
A: Visit your transcript to obtain all certificates you have earned in this system.
Q: Do I need any special software to take courses?
A: No, you only need to be connected to the Internet on your computer or mobile device. The courses will launch in any browser, although we recommend you use the most up-to-date version of that browser provided by the vendor.
Q: How do I launch a course?
A: Once you've registered and/or purchased a course, it will show up when clicking on the "My Dashboard" link in the side menu. Click on a course name to begin.
Q: One of the course components won't launch correctly; what do I do?
A: If a course component does not open or does not "play" correctly, we recommend that you first try clearing your browser cache and restarting the browser (instructions related to each browser here). If that doesn't help, next we suggest launching the course in a different web browser (i.e. try Firefox instead of Safari). You can also try viewing the course on a different device, such as a laptop if you're having trouble on a mobile device or vice versa. Some courses will open in a new browser window/tab, and you may have to disable your pop-up blocker to allow pop-ups temporarily.
If you are still having issues please contact us for troubleshooting, with as much detail as possible regarding your issue (be sure to include the name of the course).
Q: Do I have to complete a course in one sitting?
A: No. The system will track your progress in a course and you can pick up where you left off. You can even save your place in a video if you go back to view it within one week. You have one full year from the date of purchase to complete your course.
Q: You didn't answer my question.
A: Contact us, we'll answer it!
Licensure and OBN FAQs
Q. How many contact hours do I need to get or renew a license in Ohio?
A: Each person licensed as an RN or LPN in Ohio must complete twenty-four (24) contact hours of CE during each licensure period to renew a license. A nurse who has been licensed by endorsement for less than or equal to one (1) year must complete twelve (12) contact hours. At least one (1) of the required contact hours must be Category A.
The RN licensure period is from September 1 of odd numbered years through August 31 of the following odd numbered year. The LPN licensure period is from September 1 of even numbered years through August 31 of the following even numbered year.
Q. How does the Board know I met the CE requirement? Do you send my certificate to the Board.
A. Licensee and certificate holders are required to indicate whether they have met the CE requirement during the time of renewal (on the renewal application). Individuals are not required to send documentation of their contact hours with their renewal application. CE4Nurses does not send your certificate to the Board, but we do keep copies on file for the period of time required by the Board. You should keep a copy of your certificates should the Board request them.
Evidence of CE is required when reactivating or reinstating an inactive or lapsed license or certificate, or upon receipt of a "CE Audit" letter. In addition, when reactivating or reinstating a license or certificate, CE requirements may vary.
Q. What is an audit? The Board may conduct a random audit of any licensee or certificate holder to determine compliance with CE requirements. The time period for which you are being audited will be stated in the "CE Audit" letter. If audited, an individual will be asked to send photocopies of CE certificates or school transcripts to the Board. You should keep a copy of your CE4Nurses certificate should you be audited.
Q. What records should I keep and how long should I keep them?
A. Documentation of completion of a CE activity should be supplied by the provider of that activity. If audited, you will be required to send photocopies of documents (i.e. certificate) that contain all of the following information:
• name; • title of the program; • date of program completion; • name of the provider; • number of contact hours; • OBN Approver number or the name of the authorized provider or the name of the approval body.
Q. How do I know if a particular educational activity is acceptable to the Board as recognized CE?
A. Any of the following options may be used by a licensee or certificate holder to satisfy the CE requirements:
A CE activity that has been approved by an OBN Approver or by a board or agency regulating the licensee or certificate holder in another jurisdiction. An OBN Approver is an organization that has been authorized by the Board to approve continuing education activities offered by a provider or to approve a Provider Unit. An acceptable CE certificate will include a statement with the OBN Approver's name and number. The Ohio Nurses Association OBN Approver Number is OBN-001-91. CE4Nurses is operated by the Ohio Nurses Association.
Q: I have questions about CE requirements in Ohio.
A: You can contact the Ohio Nurses Association Continuing Education Department, or you can contact the Ohio Board of Nursing.
You may also view additional OBN information under the Professional Resources tab.
| Access Date | Quiz Result | Score | Actions |
| --- | --- | --- | --- |
Note: Using Google Chrome, Mozilla Firefox or Safari is recommended. You may lose some functionality if using Internet Explorer as your internet browser.